Download
BIM Digest: Volume One
Featuring informative and diverse pieces on the current
topics in the world of BIM.
Your guide to the current topics in the world of BIM
As BIM adoption becomes increasingly widespread globally, the AEC industry increasingly understands its value as a process that transforms the way buildings are designed, constructed and managed.
To support the ongoing conversation on BIM, we worked to create this eBook, bringing together a collection of contributions from knowledgeable, practical and professional sources, from both inside Trimble and out, that we hope this book goes some way to both answering questions and starting new discussions into BIM.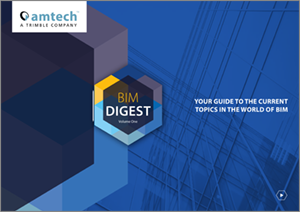 Our 36 page BIM Digest includes a range of informative and diverse pieces looking at a variety of aspects, including:

BIM in the market


Product Data Templates - What they are and how they work


The importance of the BIM4M2 Curve
Plus... our contributors give us their 2016 BIM predictions.
Download your free copy of BIM Digest

Our Contributors
We would like to thank each of our contributors for giving their time, effort and insight in bringing this book to life and hope you enjoy reading their opinions and the practical solutions they offer.


Stephan Jones
Amtech Group
A Trimble Company


Carl Collins
Elementa Consulting


Georg Hewelt
Plancal
A Trimble Company


Matt Crunden
Legrand Electric Ltd



John Eynon
Open Water Consulting


Paul Reeve
ECA